If you are looking to join the Digital Deepak internship then you must read this
everything has its pros and cons. Isn't it?
you will get to know about the following things:
How was my experience with Digital Deepak Internship?
What is the structure of the internship?
What are the things you'll learn in this program?
Who should join this internship and who shouldn't?
And the fee of the internship.
Experience with Digital Deepak Internship
I am a part of Digital Deepak Internship Program Batch 4 and in this program, I learned many things from basic to advanced level stuff of Digital Marketing.
My experience with DD Internship was very positive. However, I'd like to mention some of the things which I didn't like.
See, I had experience in Digital Marketing so completing this internship was a piece of cake for me.
However, at some point, I felt I couldn't complete the assignment on time. It wasn't because there was a lack of time, it is because I took extra-time in doing irrelevant stuff.
Tip: If you want to complete each and every assignment on time just follow what Deepak Kanakaraju says especially if you're a complete newbie in Digital Marketing.
Want to know where I felt I couldn't complete the assignment?
It was an assignment for running Google & Facebook ads. However, I completed the assignment at the old deadline.
The story is : A lot of people were asking the deadline extension for assignment because fellow interns were also facing some difficulty in completing the assignment.
What happened with me in assignment number eight and Nine I had to run Facebook ads and Google ads respectively.
Running Facebook ad was a piece of cake for me because I had some experience in how to run Facebook ads.
On the other hand, I never touched Google ads and my first two Google ads campaigns didn't run.
Because in Google ads, your landing page should be detailed and relevant to the ad you created.
In the first attempt, unfortunately, I picked up a keyword that has too much competition. It was really hard to compete on that keyword, then I decided to try in a different niche. It also failed.
Sometimes things don't go as we expect. You should try it in a smart way. Eventually, things will start falling into place.
Now coming back on to the topic, by and large, my experience with Digital Internship was positive.
A brief overview of what are the challenges other interns face. Since I am from a Digital marketing background most of the assignments were easy for me.
On the other hand, a large number of interns were from a non-digital marketing background. And they were facing difficulty in completing assignments.
However, all assignments were pretty simple and I know whenever we try to do something new it's a little bit challenging for us. And that's the whole point of doing a Digital Deepak Internship.
The Internship is designed in such a way that you gotta take action. Generally, what we do is we take a course and we watch it then we don't take any action.
And in the end, we don't get results. If you use a little bit common sense and beware of what other interns are doing you can effortlessly complete all assignments. You can ask for help from your fellow interns. That's the best thing I liked about you will put in a Facebook group where you can ask all your doubts regarding assignments.
After every live webinar, there's a Q&A session that happens for those who have doubts regarding the particular assignment. That's the one thing I like about DD Internship.
And I published an article on my blog about what I learned from the first internship class of DigitalDeepak. You can read that.
What you'll learn in this Digital Deepak Internship Program
The structure is pretty simple yet powerful because it motivates people to take action.
Who should join this internship?
If you are a working professional and want to switch your career then this internship is exclusively for you.

Let me tell you, there are many working professionals who joined this internship such as Civil Engineers, Small business owners, and software engineers, etc.
Student: You learn a new skill Digital Marketing and getting a job in Digital marketing is huge. And it's also considered as one of the most in-demand skills.
Business owners: Having more customers is the most important thing in any business. And you can acquire more customers by using Digital Marketing strategies.
Professionals: As I said you wanted to switch your career, then Digital Marketing is the best option for you. And Digital Marketing can help you to land a high-paying job as well.
Entrepreneurs: The best way to increase your customer database and test your new product idea is to take your business online and use the latest digital marketing strategies to grow your business exponentially.
Digital Marketing gives you an opportunity to learn, work and make profits. And in the shortest period of time, you can literally change your career and be the master of your own life.
If you want to make your career in Digital Marketing you just need to have Passion.
That's it.
Else everything can be figured out.
But if you don't have passion then I'd not recommend you to come & learn digital Marketing if you come in digital marketing for a shake of money. Then it's not going to work for you.
Of course, everyone needs money however initially you have to put lots of effort to learn, implement, and grow your online business.
If you can cross that phase, I promise you, you'll become a successful digital marketer.
Who Should Not Join this Program?
If you don't have Passion toward digital marketing then it's not for you.

If you're looking for instant income without putting any efforts then please don't join this Program. And if you're already making tons of money through digital marketing then you don't need to enroll in this Digital Marketing Internship Program.
Fee of Internship
Actually, the fee depends on which batch you are about to join. I can't reveal the exact fee amount because it might create confusion if you're looking to join the future Internship Batch.
One thing I can reveal that the fee will be around Rs. 15,000-20,000.
Note: The fee amount might change this is just to give you an idea.
Apply for Future Digital Deepak Internship batch to know the fee and every detail about the Digital Marketing Internship.
Here's the best part of this internship, you can earn back all the investment that you made by completing all assignments.

And let me tell you, the assignment completion rate is very high. In my batch 2, the first assignment completion rate was around 89% which is insane.
You don't need to worry about assignment completion. Nobody on this planet provides this kind of opportunity to learn, earn, and grow.
In this program, you are getting education almost FREE. If you are committed to earn back your money by completing all assignments then there's no cost for you to enroll in this Internship Program.
So, I don't think there's any problem to enroll in this program. Ultimately, you're going to get back all the money that you would invest.
You need to know this: Testimonials
If you're still in the fence about whether you should make this investment or not then don't take my word.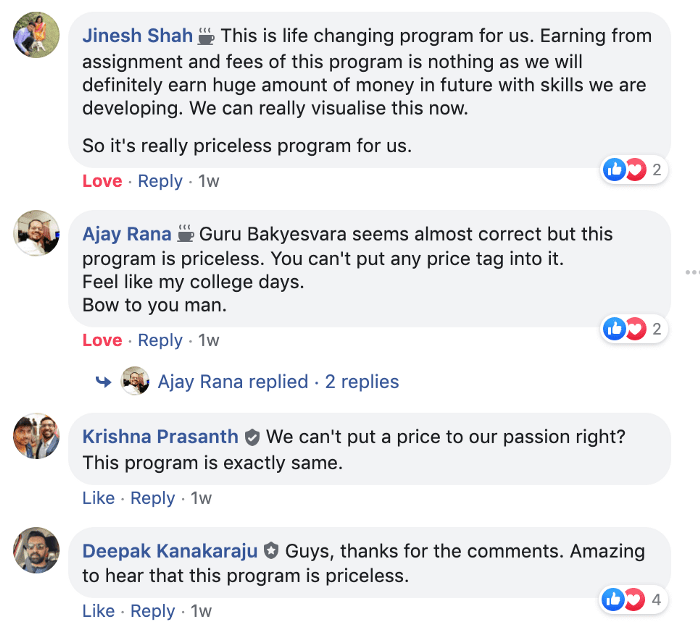 Most of the students think that this internship is priceless and it has changed their lives.