The Difference Between Digital Marketing and Traditional Marketing.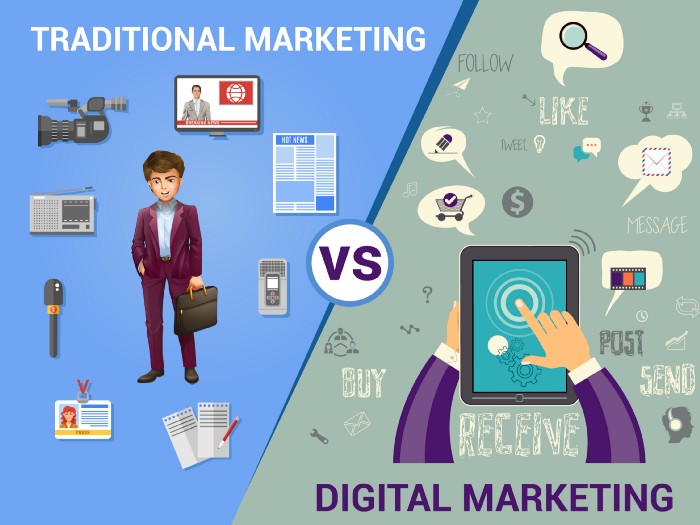 "We all are always in a dilemma to understand the difference between Digital Marketing and traditional marketing."
What is Marketing?

What you should consider in doing the marketing of any product or Business?

What are the Ways of Marketing?
Let me share what is marketing a per my learning and knowledge, I hope this will help you in understand better & help you to clear your doubts.
What is Marketing ??
Marketing is a tool which helps you to share information about your product and business that you exists in a certain service which can help make customers life easy.
Benefits of Marketing :
The advantages of marketing are it enhanced the brand recognition and over the time current and potential customer, crowd of people start associated with the logo and the colour of the brand.

"Every business needs to spend money to make money"
Marketing can be divided into two ways
Digital or Internet Marketing
Traditional Marketing
Let's talk about Traditional Marketing: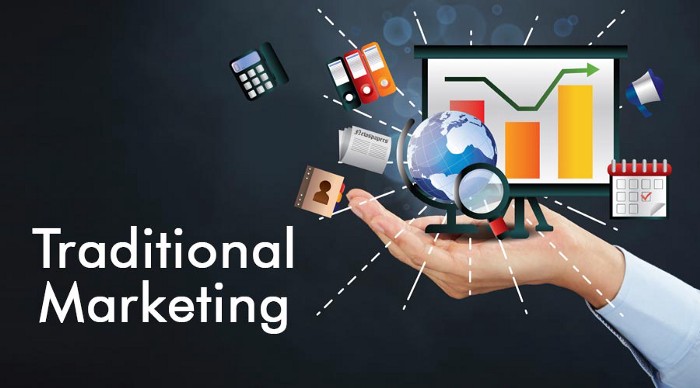 Traditional marketing is any activity of marketing which do not involve the help of the internet. that is the print ads ( ex. Newspaper, Magazine etc), Broadcast ( TV ads, Radio Ads), Phone ( Ex. Calls, SMS ) and outdoor advertising ( Ex: Billboards)
Traditional Marketing refers to :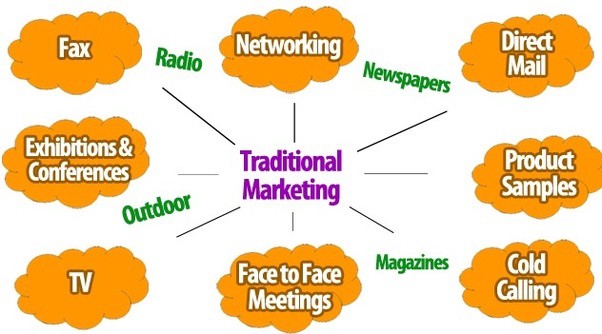 Television
Advertisement

Infomercial

Public Relations Events
Radio
Advertisement
Public Relations
Newspapers
Magazine
Selected Industry

Readership
Signage
Billboards

Vehicle signs

Other signage
Co-operative advertising with wholesalers/retailers
In-store advertising

Store catalogues
Publicity
Celebrities
Endorsements
Other Businesses
Testimonials
Customer Reviews
Websites
Referrals
Word-of-mouth

Customer incentive referrals
Public Relations Plan
Networking Events
Conferences
Charity Events (Sponsorships)
Other
Swag (Notebooks, bags, pens, pencils, pads, sticky notes)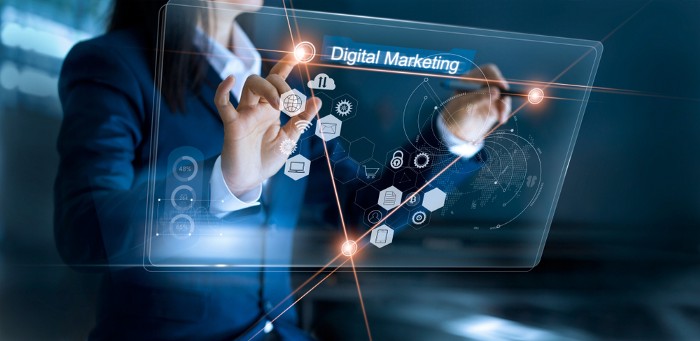 Digital marketing is the process of marketing to promote products or services that use the internet and online platforms or Technologies such as Computer, Laptops, Movies phone and other digital media platforms.
Tools and platforms which is used for digital marketing :
Facebook
 Facebook is a social media channel which allows businesses to market their products and services to the available users. Facebook marketing can be achieved through organic strategies and targeted strategies such as paid ads.
Instagram
With over 800 million unique monthly users on Instagram, marketing on the platform is absolutely worth it. Not only does this give your brand an additional channel to use when interacting with your audience, but many have also found success with direct purchases through the platform.
Linkedin
LinkedIn marketing is the process of using LinkedIn to make connections, generate leads, improve brand awareness, foster business relationships and partnerships, share content, and drive traffic to your website.
Twitter
Using paid ads on Twitter is a great way to reach your audience in a more direct way than waiting for organic reach. Promoted Tweets can expand your reach more quickly. They also allow people to discover your profile, even if they don't follow your brand or hashtags.
Pinterest
Pinterest is a social media platform in which users explore, share, and store visual content they find inspiring, helpful, or entertaining. Users add, or Pin, their chosen content to boards with a common theme to keep it organized and so other users can discover new content related to their interests.
Website
Website marketing is the strategic promotion of a website to drive relevant traffic to the site. The goal is typically to attract people who may be interested in a company's products or services. More traffic coming to a site means more opportunities to put your value proposition in front of potential customers
Blogging
Effective blogging is an essential part of an overall digital marketing strategy. It drives traffic to your website, generates new leads for the business.
Email Marketing
Email marketing is a highly effective digital marketing strategy of sending emails to prospects and customers. Effective marketing emails convert prospects into customers and turn one-time buyers into a loyal customer
Youtube
YouTube has massive traffic and viewers, with over 1,325,000,000 people using YouTube. There are currently 300 hours of video uploaded to YouTube every minute of every day — 5 hours of video content every second! Which only validates the fact that video marketing is a growing trend — the numbers say it all.
Affiliate Marketing
Affiliate marketing is the process of earning a commission by promoting other people's (or company's) products. You find a product you like, promote it to others and earn a piece of the profit for each sale that you make.
Search Engine Optimization
Search Engine Optimization is the practice of increasing the quantity and quality of traffic to your website through organic search engine results.
Content Optimization
Content Optimization is a process in which a webpage and its content are optimized to become more attractive, useful and actionable to users.
Webinars
Webinars are an interactive form of marketing and can be used as a relationship-building or authority-building tactic.
Conclusion